Trail info
Main info about the trail
How to get there
The trail begins in Piazza P. Capasso in the village of Bomerano of Agerola, attainable via car or SITA bus line Amalfi-Agerola.
Points of interest along the trail
Intersection 329 Bomerano (620), Intersection 354 (600), Grotta Biscotto (630), Intersection 327a Colle La Serra (578), Intersection 327b (570), Intersection 327a (550), Intersection 331 329b Nocelle (437)
Water points
Colle La Serra
Bomerano
Nocelle
Description
The trail allows to go from the village of Bomerano of Agerola to the village of Nocelle of Positano and to admire some of the most picturesque views of the Amalfi Coast.
From Piazza Capasso proceed south-west along the narrow slope between the houses. After a while, turn right to cross a wooden deck leading to the overhanging paved road. Take the latter southwest for a few hundred meters. At the end of this, the pedestrian path begins, which in a few minutes leads to the "Grotta del Biscotto" (in english "Cave Biscuit") (m 630), so called for the friability of its rocky walls. On the opposite side, you can admire two ruins that are an example of rock typical architecture of the area.
Continue along the same path until to reach Colle La Serra (m 578). At this point, the path disappears. Going to the left is more exposed but also more scenic. Going to the right, take the 327a which is less panoramic but more suitable for those who suffer from dizziness. The two trails meet again after about 1.3 km. The route ends at Nocelle (m 437).
[sharify]
From Our Gallery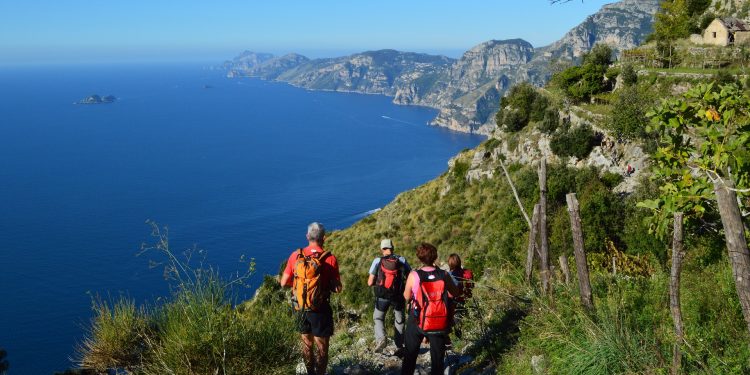 [enjoyinstagram_mb hashtag="caimontilattari327"]