Trail info
Main info about the trail
Warnings
The part of the trail between Pozzano and Capo d'Acqua appears to be unclear due to the dense vegetation where numerous traces of shepherds were opened.
The garden scissors are indispensable especially in the summer months due to the presence of ferns and rows that tend to block the path.
How to get there
From below, along the road Castellammare di Stabia-Faito, at the junction for Quisisana, go straight ahead to the ancient road to Pozzano. From above, walking along trail 336, not far from the source of "Capo d'Acqua".
Points of interest along the trail
Quisisana (180), Intersection 349-349b Castello Angioino (125), S. Maria di Pozzano (58), Intersection 336 Capo D'Acqua (530)
Water points
Pozzano
Description
The trail connects "Quisisana" near the Royal Palace, with trail 336 leading to Vico Equense or "Belvedere del Faito".
Starting from Quisisana, take "via Pantanelle" and "via Vecchia Pozzano", upstream of "Castello Angioino", until reaching the square of the "Basilica di Pozzano".
On the left of the Sanctuary, take the uphill road (via Pozzano) leading to the "Vallone Scurorillo".
Begin to walk along the uphill path having the valley on the left, until you reach a narrow 150m long throat called "la mandria" where are two caves that are on official trail log of Campania Region.
The trail continues uphill in a dense forest, where different deviations are used by the shepherds.
You will reach a plain, called "Chian e Currion" (Plain of Currione), once cultivated; now covered with ferns and rows.
Crossing this plain in the direction of the mountain, continue climbing along the path with lapilli pavement until to reach a panoramic ridge that provides a good view on the Sorrentine Coast at the intersection with trail 336, not far from "Capo D'Acqua".
Culture
Ulteriori informazioni sulla Basilica di Pozzano: https://it.wikipedia.org/wiki/Basilica_santuario_di_Santa_Maria_di_Pozzano
[sharify]
From Our Gallery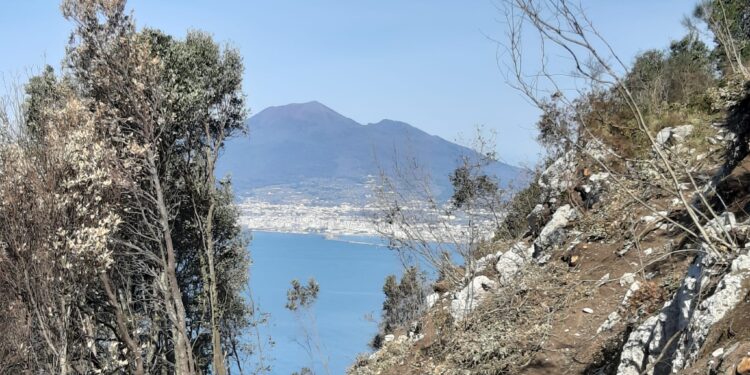 [enjoyinstagram_mb hashtag="caimontilattari336b"]