Trail info
Main info about the trail
How to get there
The trail begins near the source "Sorgente della Lontra" where a bar prevents the access of motorized vehicles.
Points of interest along the trail
Intersection 338 Bandera (1020), Neviere (1110), Intersection 338a 336c Pian del Pero (1128)
Water points
Acqua della Lontra
Description
The trail begins from the way that connects the source "Sorgente della Lontra" with "La Latteria". At the starting point there is a bar that blocks the access of motorized vehicles.
After a few meters it forks. To the right leads to the Bandera peak and the intersection with path 338. To the left, following a curved trail, it reaches the plain with the ancient "Neviere" of Faito and the secular beech trees that surround them. Continuing then you will arrive at "Pian del Pero" and again on path 338, south of "Monte Cerasuolo".
Enviroment
The trail is very interesting for naturalistic reasons. Along the beginning there are chestnut trees, rare occurrence at this altitude. After the chestnuts, at the highest altitude, there are the beech and the neapolitan alder. There is also the presence of the white birch, characteristic tree of the cold climates, typical of North-European vegetation.
About fauna,  there are obvious traces of the passage of boars in the area before the "Neviere".
Historical info
The Faito's secular beeches trees (probably among the oldest in Italy) are the living evidence of the extinct snow industry. These trees surround the "Neviere", big deep holes where the snow was collected during the winter. In the summer months, snow was taken and transported in blocks at the ports of Vico Equense and Castellammare di Stabia to be sold in Naples. The beeches trees were so important for the snow industry to be protected by special laws that prohibited cutting. The snow industry ended on the early 1900 due to the advent of electric ice machines.
[sharify]
From Our Gallery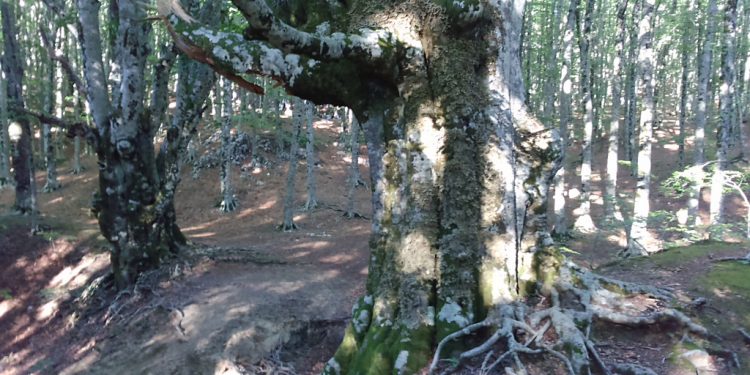 [enjoyinstagram_mb hashtag="caimontilattari338b"]